At the Library we are quickly getting into Winter/Christmas mode. In fact, I have been working on the bulletin board and such for the Teen Zone. If you were one of the teens who contributed a snowflake, make sure to look for the one you made. I'm sure it's up there. Thank you!!!
Another thing I started looking at was winter themed books. Here are a few that we have that might get you in the winter mood too!!!
Feel free to share some of your favorite Christmas or Winter books and don't forget that you can also submit a book review to win a
Free
book (Coventry library card holders only). Just hit the
"Review It!"
button found on the right side of the page. Go ahead...do it!
The Dead of Winter
Chris Priestly
After Michael's parents die, he is invited to stay with his guardian in a desolate country house. He begins to suspect something is not quite right on the day he arrives when he spots a mysterious woman out in the frozen mists. But little can prepare him for the solitude of the house itself. His guardian is rarely seen, and there's a malevolent force lurking in an old hallway mirror. As the chilling suspense builds, Michael realizes that the house and its grounds harbor many more secrets--both dead and alive.
Winter Town
by Stephen Emond
Evan and Lucy, childhood best friends who grew apart after years of seeing one another only during Christmas break, begin a romance at age seventeen but his choice to mindlessly follow his father's plans for an Ivy League education rather than becoming the cartoonist he longs to be, and her more destructive choices in the wake of family problems, pull them apart.
Dash and Lily's Book of Dares
by Rachel Cohn & David Levithan
Told in the alternating voices of Dash and Lily, two sixteen-year-olds carry on a wintry scavenger hunt at Christmas-time in New York, neither knowing quite what--or who--they will find.
The Silver Kiss
by Annette Curtis Kluase
Zoe is wary when, in the dead of night, the beautiful yet frightening Simon comes to her house. Simon seems to understand the pain of loneliness and death and Zoe's brooding thoughts of her dying mother. Simon is one of the undead, a vampire, seeking revenge for the gruesome death of his mother three hundred years before. Does Simon dare ask Zoe to help free him from this lifeless chase and its insufferable loneliness? From the Paperback edition.
7th Heaven: Lucy's Angel
by Amanda Christie
A heartwarming collection of all-new, original holiday stories, featuring characters from the highest-rated show on the WB network! In "Lucy's Angel," Lucy Camden uncovers a beautiful angel ornament in her grandfather's basement--one that her mother had once cherished. Lucy can't wait to give this perfect present to her mother, but on her drive back home, she must face the kind of difficult choice only an angel can help her make. In "Mary's Gift," Mary Camden is stranded in an airport terminal during a blizzard. Stuck in the middle of nowhere with strangers on Christmas Eve, Mary is stunned when one child's tears lead her to give a gift that gives her much more in return. In "Matt and the King," Matt is ready for a swinging new year when his college roommate invites him to Las Vegas. On their way, they pick up a stranded motorist. The man looks like Elvis, acts like Elvis, and sounds like Elvis--and nobody seems to see the man but Matt and his roommate! Has their New Year's celebration turned into a brush with a rock-'n'-roll angel?
After the Snow
by S.D. Crockett
The oceans stopped working before Willo was born, so the world of ice and snow is all he's ever known. He lives with his family deep in the wilderness, far from the government's controlling grasp. Willo's survival skills are put to the test when he arrives home one day to find his family gone. It could be the government; it could be scavengers -- all Willo knows is he has to find refuge and his family. It is a journey that will take him into the city he's always avoided, with a girl who needs his help more than he knows.
Frost
by Wendy Delsol
Katla Leblanc has to employ her grit, spirit, and special gifts to rescue the boy she loves. After the drama of finding out that she's a Stork, a member of an ancient and mystical order of women, and that her boyfriend, Jack, is a descendent of the Winter People able to control the weather, Katla Leblanc is delighted when all signs point to a busy and peaceful Christmas. That is, until the snowstorm Jack summons as a gift to Katla turns into the storm of the century, attracting Brigid, a gorgeous scientist who, in turn, attracts Jack. Between the school play, a bedridden, pregnant mother's to-do lists, and keeping an eye on her aging grandfather, Katla doesn't have time to question Brigid's motives or deal with Jack's increasingly cold behavior. But Katla's suspicions mount when Jack joins Brigid on a research expedition to Greenland, and when the two of them go missing, it becomes clear that Katla is the only one who can save her beloved Jack from the Snow Queen who holds him prisoner. Adventure, romance, and myth combine in this winter escapade for teens who like a bit of fire with their ice.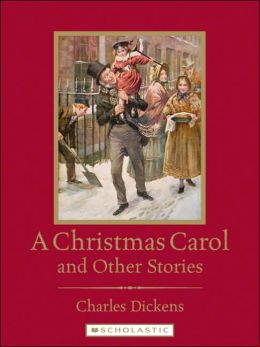 A Christmas Carol and Other Stories
by Charles Dickens
Charles Dickens's beloved tale about the miserly Ebenezer Scrooge, who comes to know the meaning of kindness, charity, and goodwill through a haunting Christmas Eve encounter with four ghosts, is a heartwarming celebration of the spirit of Christmas.
This Classics edition also includes two other popular Christmas stories by Dickens:
The Chimes
,in which a man, persuaded by hypocritical cant that the poor deserve their misery, is shown what his pessimistic resignation might lead to in a vision conjured by the pealing of bells, and
The Haunted Man
, Dickens's last Christmas tale, which features one of his great comic families, the Tetterbys.